Sarah teaches the Jade Egg practice in person and online. She also sells beautiful handcrafted jade eggs made with love from Guatemalan GIA certified jadeite jade.
The Jade Egg practice originated in ancient China. It is believed that these secret practices were taught to the empresses and concubines in the emperor's court enabling the women to maintain their beauty, health and sexual activity.
The Jade Egg practice is a holistic practice which differentiates it from regular Kegel exercises to strengthen the pelvic floor. The Jade Egg practice helps to cultivate sexual energy, connect with our inner wisdom and develop self love. The practice helps women connect with yin energy, the qualities of which are soft, gentle, downward seeking, receptive and nourishing. We live in a busy world with an emphasis on yang energy and therefore it is so important to connect with our yin energy to be able to live a balanced life.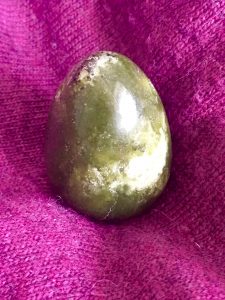 Jade was the stone traditionally used in China for this practice. It is a powerful healing stone used to attract love and is known to protect the wearer from negative energies. Jade is one of the harder crystals so it will not break easily if dropped or boiled. It is non-porous and therefore will not trap bacteria.
The vagina contains acupressure points relating to the yin organs of the body. The Jade Egg practice will help to massage these points which can have balancing and healing benefits. During egg practice a localised production of hormones is activated which keep the vagina moist and resilient. In Chinese Medicine, women's health issues arise when energy becomes blocked or is depleted, the Jade Egg practice helps to keep the energy flowing smoothly throughout the pelvic area.
The Jade egg exercises are simple to follow and improvements in strength and sensitivity can be experienced within weeks. However this is no quick fix! Regular practice is greatly enhanced by beginning with the Taoist energy meditations and qi gong exercises to prepare the body rather like preparing soil before planting.
Benefits include:
Improves pelvic tone and suppleness
Increases sensitivity and awareness
More frequent and powerful orgasms
Reduces premenstrual symptoms and period pain
Reduces menopausal symptoms
Balances hormones
Increases vaginal lubrication
Restores tone after childbirth
Heals urinary incontinence
Prevents prolapse
Increases vitality and stronger immune system
Heals wounds of past trauma
An inner glow that radiates outwards
Balances emotions
Increases creativity, self acceptance and self love
Past Workshops
4th August 2019 Introduction to Jade Egg afternoon at private address, Devon
5th – 11th August 2018 Acupuncture sessions at Women's Yoga and Dance Retreat, Ibiza
18th August 2018 Qi Gong and Jade Egg Circle at Womanfest, Frome
8th April 2018 Spring Awakening – Women's Wellness afternoon, Dartington
26th November 2017 Women's Winter Wellness afternoon, Dartington
8th October 2017 Introduction to the Jade Egg, Moon Sisters monthly group, Dartington
8th April 2017 Spring Awakening – Women's Wellness afternoon, Dartington
14th March 2017 Introduction to the Jade Egg, Totnes Moon Lodge, Totnes